Thursday, July 13

1:00 ET
10:00 PT
The Key to Engagement and Retention
The direct path to lowering turnover, creating happier employees, and earning kudos from your boss
In this 75-minute live and interactive online training, you will learn how to:
Ask the right questions, listen, and act.

Discover how to create a safe, informal dialogue to elicit valuable responses and ways you can take action to retain.

Show employees they are valued.

Prove to employees that you are invested in them through these powerful, focused one-on-one conversations.

Dig deep to spot employees' pain points.

Access unresolved issues where employees need support.

Follow up and communicate.

Act quickly on the feedback and maximize the retention value of the conversation.

Analyze and act on the results.

Make recommendations based on the feedback.

Put processes in place.

Turn these conversations into your secret weapon.
Gallup reported that more than half of employees said that in their last three months on the job before quitting, no one asked how they were doing.
We're all familiar with exit interviews. But now, it's more important to have those discussions before employees quit.
Studies show that companies that conduct stay interviews benefit from a higher percentage of engaged, motivated employees, with lower turnover. In fact, a recent survey from Eagle Hill Consulting shows that 48% of workers say connection to their work affects whether they are inclined to stay with their employers. 
And with unemployment so low, it's essential that you learn how to use stay interviews to retain your best employees now before they jump to a competitor. Learn how to stop those exit interviews by examining what excites employees, what annoys them, and what your company can do to retain their services.
Recognition and inclusion are ways to keep top workers from leaving. On July 13, gather your managers and HR staff to learn how to develop, implement, and act on these timely stay interviews.
Agenda for Stay Interviews
Create and administer an efficient, effective stay interview program — whether in HR or as a people leader
How to make stay interviews an effective way to show employees you care and they are valued
When, how and how often to conduct them
The best questions to ask (example: "What's our company's dumbest rule?" or "What motivates you to come to work?")
How to analyze and act on the information, resulting in higher retention rates
Which employees to include — all or just a select few?
How to boost your most valued employees' job satisfaction and level of engagement
A Stay Interviews Testimonial
Since I started in 2011, I have tried to influence Sr. Leadership to conduct stay interviews! I was finally given the opportunity by sharing this webinar Information with my boss.

We have had so many people leave the company even without notice and with the Great Resignation, the change in work integrity, work/life balance, the need for more flexible work hours, working from home, and loss of good relationships with co-workers, it is ever more important to LISTEN to our workers. I conduct nearly every exit interview unless the employee leaves w/o notice. Many say they may have stayed if they knew they had any alternatives or that anyone would listen and hear them.

I think I've finally got Sr. Leadership's attention, so thank you! It will be my retirement gift to them. Company culture only means something if the culture is fairly interpreted and abided by all employees. I could go on but I'll leave it with that! Many thanks!

HR Manager,

Honda
Interactive Q&A time included
In addition to providing expert advice, Catherine will be available to answer your questions on conducting the most effective stay interview in the dedicated live Q&A time.
Catherine M. Rymsha, EdD, knows what makes a leader, a leader. Based on her years of training, research and consulting, she's determined how a person becomes one: they make the decision to lead. She details this further in her recent book, The Leadership Decision. Catherine is a lecturer at the University of Massachusetts, Lowell, where she teaches courses on leadership. Catherine spent over ten years in marketing/communications leadership roles and now leads learning and development for a software company. Between her academic and professional experience, she has taught thousands of courses on leadership, feedback and career to global leaders across an array of industries.

Her TEDx Talk, "Want to Become a Better Leader? Here's How. Just Listen," focuses on the importance of listening to leadership. She holds a master of science in leadership and a doctorate of education with a focus on organizational leadership from Northeastern University in Boston and received her bachelor of arts in English/ communications from the Massachusetts College of Liberal Arts in North Adams, Massachusetts.

Catherine M. Rymsha, EdD

leadership expert and educator
Professional Certification Credit Hours Included With This Webinar
Business Management Daily is recognized by SHRM to offer Professional Development Credits (PDC) for SHRM-CP® or SHRM-SCP® recertification activities.
The use of this official seal confirms that this Activity has met HR Certification Institute's® (HRCI®) criteria for recertification credit pre-approval.
Register now and receive these free bonuses!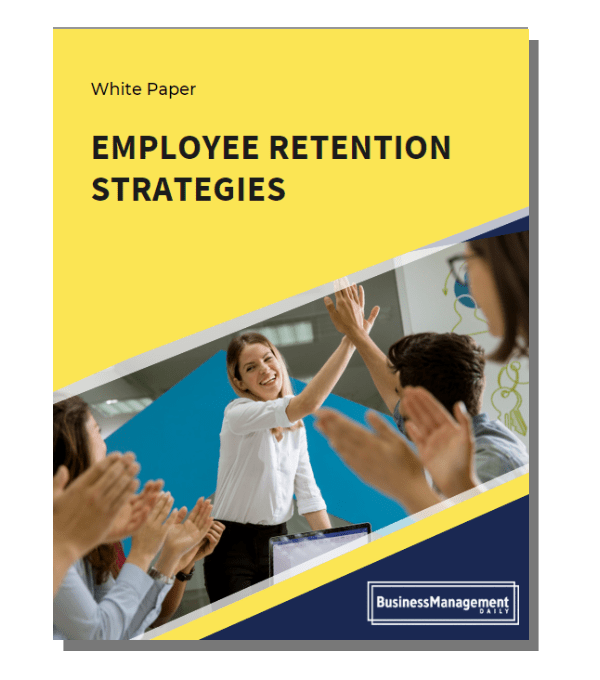 Employee Retention Strategies
Hiring is expensive, timely, and harms productivity. That's why employee retention is so vital. Keeping employees on staff and engaged helps productivity, saves money, and keeps valuable institutionalized knowledge within the organization.
However, as companies struggle to maintain employees, what can you do to set your organization apart and keep talent on staff? Employers need to work harder than ever to retain their current staff. Some solutions include improving employee benefits, allowing telecommuting, and optimizing the onboarding process.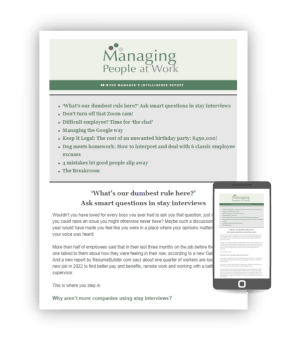 30-Day Free Trial to Managing People at Work
You'll also receive one month of exclusive access to Managing People at Work — our comprehensive online resource designed to make you a stronger, better-prepared manager. So that you continue to benefit from Managing People at Work, we will continue your subscription after that for the then current rate, unless you tell us "no, thanks" — your choice.
We promise you'll be satisfied.
If Stay Interviews fails to meet your needs in any way, we will refund 100% of your tuition – every penny you paid – but your course materials and registration bonuses will be yours to keep. No hassles, no questions asked.