Friday, July 9

1:00 ET
10:00 PT
Take Control of Your Day: Tips to Organize Your Time & Your Work
In this 75-minute online training, you will learn how to:
Work better, live better.

Discover how to eliminate time-wasters and watch your personal productivity soar.

Take control of your day

using unique strategies like "switch tasking" and a daily priority matrix.

Reduce your stress

with strategies to take proactive control of your day, rather than simply reacting to everything.
Become a better employee, leader, parent, spouse and friend
Things can easily fall apart if you don't manage your time wisely—at work and at home. Deadlines slip … projects get sloppy … and your reputation and relationships take a serious beating.
If you're stressed and can't seem to impose order on your daily chaos, it's time to drop those old habits and replace them with new ones that put YOU in control of your time. You may have believed the myth that you just need to get better at multi-tasking but science has proved there is no such thing.
This fast-paced, advice-packed webinar provides simple, yet effective, ways to streamline your routine and declare war on all the distractions, clutter and time-robbers that are hurting your work and home life.
Block out just a little time on July 9 so you can enjoy much more free time later.
Agenda for Take Control of Your Day
Valuable ways to manage your time for max production
Simple tips to manage paper, email … and interruptions
How to use "switch tasking" to juggle priorities
8 steps to develop a time log to track your day
Organize your tasks using a 4-box Priority Matrix
Set goals using "sprint" and "marathon" deadlines
The best ways to tackle unpleasant tasks and huge projects
Focus your brain: High-tech (apps) and low-tech (capture cards, etc.)
Set up your workspace for maximum efficiency
5 steps to run the best time-efficient meetings
Ease your brain with the "circles of control" activity
Interactive Q&A time included
Get specific advice on how to manage YOUR day during our special Q&A session
Sharon Jutila is a consultant and HR expert with the AmeriBen consulting group, where she provides advice to a wide range of businesses. She is a well-respected trainer on HR and employment compliance issues, and she has trained HR professionals at hundreds of conferences and events. In addition, Sharon is an attorney and a licensed mediator who helps resolve workplace disputes.

Sharon Jutila

AmeriBen consulting group
Register now and receive these free bonuses!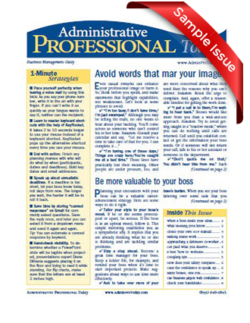 Admin Pro Today
Administrative Professional Today is your guide to sending your career into the stratosphere. Each month you'll receive ideas, tips and advice on every aspect of your job – often from admins who face the same issues you do.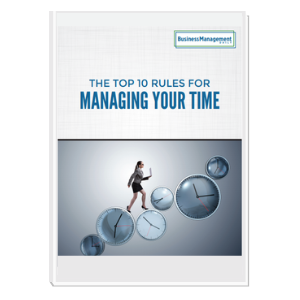 The Top 10 Rules for Managing Your Time
Each webinar attendee will receive a downloadable copy of our special report, The Top 10 Rules for Managing Your Time. This newly updated report compiles the best of Business Management Daily's advice for dealing with the never-ceasing time crunch, from how to set hard boundaries to killing those "time vampires."
We promise you'll be satisfied.
If Take Control of Your Day fails to meet your needs in any way, we will refund 100% of your tuition – every penny you paid – but your course materials and registration bonuses will be yours to keep. No hassles, no questions asked.