Wednesday, June 15

1:00 ET
10:00 PT
Mastering Business Writing
In this 75-minute interactive online training, learn how to:
Write for results.

Create strategic, on-target communications that persuade even the most difficult readers.

Become the writer others envy.

Discover the best tactics for drafting business documents, emails, social media posts, & other communications.

Write with precision.

Use the appropriate tone, grammar, and style to keep readers engaged.
Advance your career in just one hour: Learn to write impressive and effective business communications!
Written communications are a huge part of your job. Why have you waited so long to learn the secrets of powerful writing? Unclear communications will confuse your colleagues, look unprofessional, and it can derail your career.
Your ability to write in a way that effectively commands your readers' attention will help in every aspect of your job and polish your professional reputation. 
This interactive and entertaining training session will deliver real and immediate improvement in your professional writing. Return to your keyboard armed with the skills and strategies necessary to write clear, compelling business communications and killer copy! Mastering Business Writing is a must for anyone who writes on the job!
Agenda for Mastering Business Writing
Master tricks for starting quickly and capturing reader attention from the first sentence
Stay on point. Learn how to deliver a focused message, free of unnecessary details
Motivate audiences to read and respond to any type of written communication
Handle complex issues and technical concepts
Write for results, using the inverted pyramid, powerful leads, the active voice and other techniques
Refresh on grammar, editing and proofreading rules, allowing you to quickly recognize and eliminate errors
Apply the ABCs: accuracy, brevity, and clarity
Use appropriate business tone and reader-friendly language. Eliminate jargon and legal diction
Use gender-neutral language to maintain sensitivity to diverse audiences
Craft effective and compliant emails and social media posts. Avoid the legal, regulatory and organizational risks
Interactive Q&A time included
Ask writing coach Nancy Flynn YOUR specific questions about effective business communications
A recognized expert on workplace compliance and communication, Nancy Flynn is the founder and executive director of The ePolicy Institute and Business Writing Institute. She provides training and consulting services to clients seeking to minimize compliance risks and maximize communication skills. Nancy is an in-demand trainer and the author of 13 books including The ePolicy Toolkit, The Social Media Handbook and Writing Effective E-Mail. She also serves as an expert witness in litigation related to workplace email and web use. A popular news source, she has been quoted in The New York Times, Wall Street Journal, USA Today, Time, Fortune and CNN.

Nancy Flynn

The ePolicy Institute and Business Writing Institute
Register now and receive these free bonuses!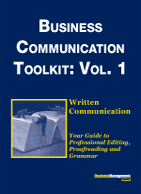 Business Communication Toolkit: Vol. 1, Written Communication
This toolkit is a handy guide that gives you all the tools you need to create polished documents, develop a style manual for your organization, proofread to perfection and avoid grammar and word usage errors.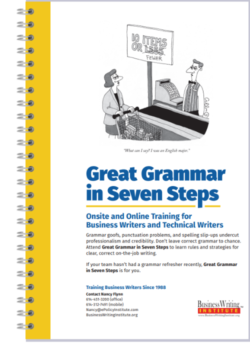 Great Grammar in Seven Steps
Grammar goofs, punctuation problems and spelling slipups undercut professionalism and credibility. Don't leave grammar to chance. This in-demand tip sheet clears up seven of the biggest business-writing blunders. If you haven't had a grammar refresher lately, this is for you.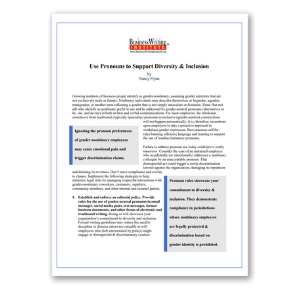 Use Pronouns to Support Diversity & Inclusion
Ignoring pronoun preferences can trigger discrimination claims and emotional pain. All it takes is one gender-biased email or prejudiced post to turn off employees, consumers and the community. Support your commitment to diversity, civility and compliance with pronoun rules.
30-Day Free Trial to Managing People at Work
One month of members-only access to Managing People At Work – our comprehensive subscription designed to make you a stronger, better-prepared manager.
So that you continue to benefit from Managing People At Work, we'll continue your access automatically for just $89 per quarter, unless you tell us "no, thanks" – your choice.
We promise you'll be satisfied.
If Mastering Business Writing fails to meet your needs in any way, we will refund 100% of your tuition – every penny you paid – but your course materials and registration bonuses will be yours to keep. No hassles, no questions asked.