Tuesday, June 22

1:00 ET
10:00 PT
Terminations & Firings: The Easy Way to Do a Difficult Thing
Join us for this special termination seminar. In 75 minutes, you'll learn how to:
Conduct a buttoned-up termination.

Learn expert strategies and new best practices so your termination proceeding goes smoothly.

Make sure that your termination is legal.

We'll take a look at various factors and self-checks so you can ensure that your process and decision are legal.

Handle post-termination topics.

Understand key steps and issues that you may encounter while closing the file on the employee.
Tackle the toughest people management task in a new way
Are you a new manager conducting your first termination? Are you a tenured supervisor looking for new tactics on how to make termination proceedings go more effectively?
From the best day to terminate someone, to the types of documentation required or even the words to say, our brand-new professional webinar covers the topic from start to finish. Management and HR professor Sarah Felmet will share tips and tactics for a smooth and legal termination.
Whether you're performing a termination for the first time or the hundredth, this is the perfect opportunity to learn new skills or improve on the tactics you already use to facilitate both an ethical and legal termination, and how to put the employee in the best possible place for future success.
Agenda for Terminations & Firings
Pre-termination. Prior to conducting a termination, the supervisor must go through the pre-termination process. Learn how to prepare for the termination, including required documentation. Plus, get essential tips to ensure the termination proceedings are ethical and legal before moving forward.
Scheduling the termination. It's important to avoid spur-of-the-moment terminations. We'll discuss how to effectively schedule the termination and key players to include during these proceedings.
Structuring the situation. Delve into identifying the appropriate structure for the termination proceedings and proven methods for effectively following the structure. Working in a remote setting? No problem, we'll discuss specialized tactics for this new work modality.
The meeting: It's a psychological game! Sarah will share a checklist of tips and tactics that will help facilitate a smooth termination. (Stay tuned for the best day to terminate!) You'll discover various situational strategies to approach the termination based on the employee's strengths and weaknesses.
Keeping things calm and safe. Terminations can take a turn very quickly and your safety as a supervisor is paramount! Learn effective strategies to ensure your wellbeing.
The final goodbye. Learn good closing options for the termination proceedings and how to assist the employee in their future endeavors, which of course is highly situational.
Things to avoid. Effective termination proceedings avoid certain don'ts. Get advice on the critical aspects to avoid and where and when to conduct a termination.
Claims, COBRA and more. Claims has become a growing subject following terminations. Visit the COBRA and unemployment claim world and get resources on where to get the latest unemployment information and even tactics on how to avoid such claims.
Interactive Q&A time included
Ask Sarah your termination questions during the designated Q&A time
Sarah Anne Daniel Felmet began her teaching career for Cedar Valley College as an adjunct instructor in 2007 and then transitioned to Dallas College, Richland campus as a full-time professor in 2008, where she instructs in a variety of management courses such as Human Resource Management, Supervision and Cooperative Education. She also serves as adjunct professor at Tarrant County College teaching Benefits and Compensation and Human Resources Training and Development.

Mrs. Felmet is a member of Alpha Gamma Delta sorority and serves as the member experience advisor to the Texas Woman's University chapter. She is also a member of Pi Gamma Mu honor society for social sciences. She has also authored two textbooks in the fields of marketing and human resources. She is co-founder of the Sheldon Pierre Foundation, which raises charity funds for St. Jude's and the International Myeloma Foundation.

Sarah A. Daniel Felmet

teacher and advisor
Professional Certification Credit Hours Included With This Webinar
This program is valid for 1.25 PDCs for the SHRM-CP® or SHRM-SCP®.
The use of this official seal confirms that this Activity has met HR Certification Institute's® (HRCI®) criteria for recertification credit pre-approval.
Register now and receive these free bonuses!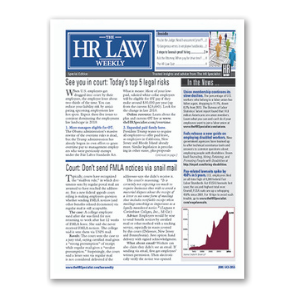 5 free issues of The HR Law Weekly newsletter
We'll also show you how to "lawsuit-proof" your HR practices – from avoiding handbook mistakes to training managers on hiring and firing the right way, and much more.
To make sure you continue to benefit from this advice, we'll keep The HR Law Weekly coming for just $79/quarter until you tell us "no, thanks."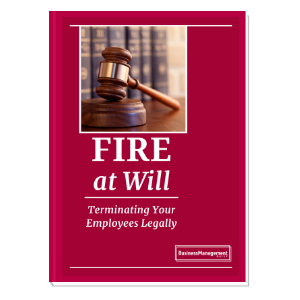 Fire at Will: Terminating Your Employees Legally
Packed with 60 pages of valuable advice, this popular book shows simple techniques that give you a concrete legal position in almost any situation.
We promise you'll be satisfied.
If Terminations & Firings fails to meet your needs in any way, we will refund 100% of your tuition – every penny you paid – but your course materials and registration bonuses will be yours to keep. No hassles, no questions asked.