Wednesday, Dec. 13

1:00 ET
10:00 PT
Revise Your Job Descriptions:
A Workshop for HR & Managers
Strong job descriptions are the best way to avoid employee lawsuits
In this 75-minute online training, learn:
How to avoid FLSA, ADA, and FMLA claims. Discover how to correctly describe those all-important essential functions, expectations, duties, responsibilities and more.
A step-by-step plan to write and revise. Replace "bad" wording with "good" language to eliminate red flags that may signal legal troubles.
How and when to revise your job descriptions. Accurate job descriptions require an honest discussion with the employee about tasks and responsibilities, and a realignment of the description to match reality, or reassignment of problematic duties.
If a job description hasn't been updated recently, it's a legal time bomb.
You may think of job descriptions as a recruiting tool, but they are legal documents. Outdated, inaccurate, or non-existing job descriptions will spark trouble.  Without one, good luck persuading the DOL that you've properly classified managers and supervisors as exempt from overtime. The same goes for proving what's an essential function. If you don't list it, it's not essential.
The pandemic permanently changed the landscape of the American workplace. Telework, hybrid schedules, and Zoom meetings are here to stay. And with that, your employees have assumed new tech skills, new duties, and new responsibilities that must be reflected in their job descriptions. Consider this: At what point does your teleworker lose her exempt status when she's doing all her own administrative work — tasks once relegated to support staff? But what language should you delete from those old job descriptions — and what exactly replaces it? 
Taking the time now to create or update job descriptions will pay huge dividends later. We will show you how to get started, what to change, and why you need to put updates on your calendar once a year.
Agenda for Revise Your Job Descriptions
The 5 benefits of a good job description.
The 3 federal laws that require accurate, up-to-date job descriptions.
Which words create liability, and which words help you avoid it.
4 simple steps to create accurate and defensible descriptions.
How to define "essential functions" for ADA purposes.
Exempt or not? The right language to lock in an employee's exempt FLSA classification. Hint: You don't need to state which exemption you're claiming but you do need to know as you list duties for the job.
Descriptive but functional language. Why job descriptions should use language that's function-based and avoids coded words like aggressive and fearless that can be seen as racist or sexist.
Should they include disclaimers? Yes, and we'll provide a sample you can include.
Red flags that invite lawsuits and regulatory problems.
Why the annual review should always include reassessing the job description. This is your chance to fix errors, evaluate changes and rest easy after knowing your employee can't trap you with surprise overtime, misclassification or other wage and hour complaints.
Resources for better descriptions. There are resources that help you create new positions or check that current positions are properly described.
Interactive Q&A time included
Do you have specific questions about your organization's job descriptions? Ask our expert attorney during the Q&A period.
Anniken Davenport is a noted employment law attorney and the editor of the HR Specialist: Employment Law newsletter series. She has authored several books, including Bullet-Proof Your Employee Handbook and Overtime & Other Tricky Pay Issues, published by HR Specialist. She is a co-author of the upcoming Labor & Employment Law for the 21st Century by Prentice Hall. Anniken has served as a professor at Penn State University, where she taught business law and HR management, and she directed the Legal Studies Program at Wilson College. Her legal career includes representing government units in discrimination and other employment law cases and representing school districts in labor negotiations.

Anniken Davenport

Attorney and author
Professional Certification Credit Hours Included With This Webinar
Business Management Daily is recognized by SHRM to offer Professional Development Credits (PDC) for SHRM-CP® or SHRM-SCP® recertification activities.
The use of this official seal confirms that this Activity has met HR Certification Institute's® (HRCI®) criteria for recertification credit pre-approval.
Register now and receive these free bonuses!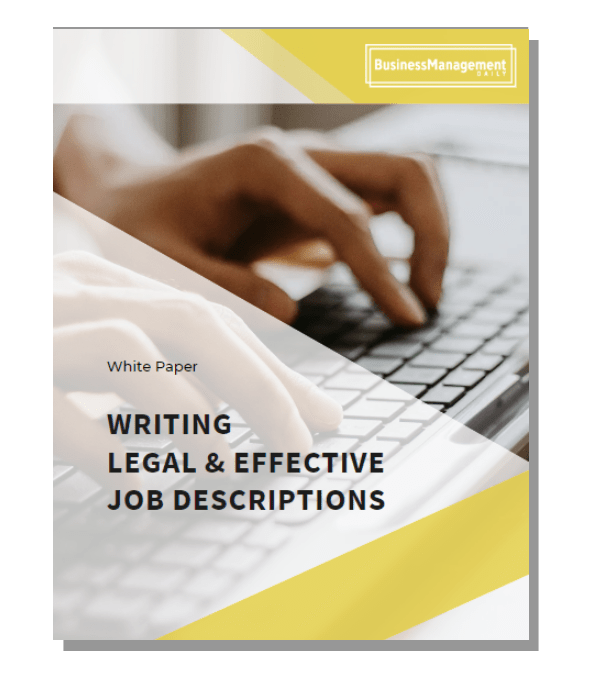 Writing Legal & Effective Job Descriptions
Writing Legal & Effective Job Descriptions identifies the benefits of drafting job descriptions, the most common legal traps, and the key ingredients to include in a comprehensive, legally safe job description. Plus, it includes a 13-question self-audit tool to measure the legality and effectiveness of any job description.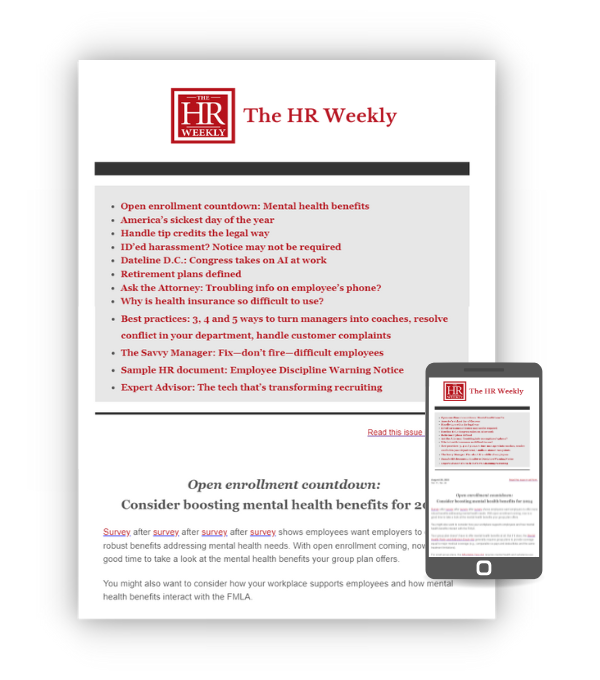 4 free issues of The HR Weekly
You'll also receive one month of exclusive access to The HR Weekly – our comprehensive service with all the HR advice and compliance tools to simplify your job … and to keep your organization out of court. So that you continue to benefit from The HR Weekly, we will continue your subscription after that for the then current rate, unless you tell us "no, thanks" – your choice.
We promise you'll be satisfied.
If Revise Your Job Descriptions fails to meet your needs in any way, we will refund 100% of your tuition – every penny you paid – but your course materials and registration bonuses will be yours to keep. No hassles, no questions asked.