Thursday, June 2

1:00 ET
10:00 PT
Legal Requirements of Job Descriptions
In this 75-minute online training, learn:
How to avoid FLSA, ADA, & FMLA claims.

Discover how to correctly describe those all-important essential functions, expectations, requirements, and more.

A step-by-step plan to write and revise.

Discover the precise language to include & the red flags that will spark legal trouble.

How to revise your job descriptions.

COVID changed where, when, and how work is performed. Your job descriptions must be revised, too.
If a job description hasn't been changed since the pandemic began, it's a legal time bomb.
You may think of job descriptions as a recruitment tool. The truth is, they are legal documents. Outdated, inaccurate, or missing job descriptions can spark big-time trouble with various employment laws, including the Fair Labor Standards Act, the Americans with Disabilities Act, the Family and Medical Leave Act, and Title VII of the Civil Rights Act of 1964. 
As most jobs changed in some way during the pandemic, your job descriptions also must change to avoid legal jeopardy. You can no longer afford to push this task down on your "to do" list.  
On June 2, discover how to make legally-sound job descriptions. Learn the practical steps and the correct language to draft effective and legally safe job descriptions for any position. Discover crucial updates and get a step-by-step walkthrough of how to approach refreshing your job descriptions.
Agenda for
Legal Requirements of Job Descriptions
The 5 benefits of a good job description
Which words create liability, and which words avoid it
4 simple steps to create accurate and defensible descriptions
How to define "essential functions" to prevent ADA liability
Exempt or not? The right language to lock in an employee's exempt FLSA classification
Avoid FMLA lawsuits with the right words in a job description
How gendered or non-inclusive language can come back to haunt you
Should they include disclaimers? Yes, and we'll provide a sample you can include
Red flags that invite lawsuits and regulatory problems
7 best practices for every job description
Interactive Q&A time included
Got specific questions about your organization's job descriptions? Ask our expert presenters during the Q&A period.
Eunju Park is an attorney in the Washington, D.C. office of Littler Mendelson and has previously worked as a human resources manager for a large hotel, where she gained practical experience in employment matters and job descriptions. She currently represents employers in court and advises employers on a broad range of employment matters, including discrimination, disability, FMLA leave and employee handbooks.

Eunju Park

Attorney and speaker
Joseph Greener is an attorney in the Washington, D.C. office of the Littler law firm, where he defends clients in court and administrative proceedings involving Title VII, the ADA, ADEA, FMLA and other employment law issues. He also helps employers navigate the legal landscape, including consulting on diversity and inclusion matters.

Joseph Greener

Attorney and speaker
Professional Certification Credit Hours Included With This Webinar
Business Management Daily is recognized by SHRM to offer Professional Development Credits (PDC) for SHRM-CP® or SHRM-SCP® recertification activities.
HRCI has pre-approved this activity for recertification credit toward the aPHR®, PHR®, PHRca®, SPHR®, aPHRi™, PHRi™, GPHR® and SPHRi™ certifications. The content of the activity submitted has met the criteria of the Approved Provider Program.
Register now and receive these free bonuses!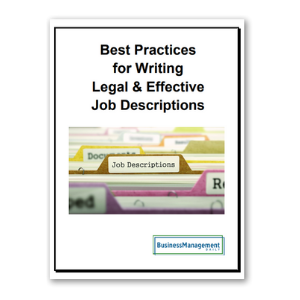 Best Practices for Writing Legal and Effective Job Descriptions
Everyone who signs up will receive a copy of our new special report, Best Practices for Writing Legal and Effective Job Descriptions. It lays out the benefits of drafting job descriptions, the most common legal traps and the key ingredients to include in a comprehensive, legally safe job description. Plus, it includes a 13-question self-audit tool you can use to measure the legality and effectiveness of any job description.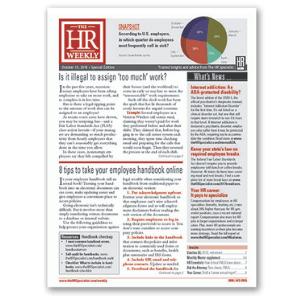 4 free issues of The HR Weekly
This newsletter is your best source for all the HR advice and compliance tools to simplify your job … and to keep your organization out of court.
So that you'll continue to benefit from this service, we'll continue your subscription automatically for just $79 per quarter, unless you tell us "no, thanks" – your choice.
We promise you'll be satisfied.
If Legal Requirements of Job Descriptions fails to meet your needs in any way, we will refund 100% of your tuition – every penny you paid – but your course materials and registration bonuses will be yours to keep. No hassles, no questions asked.