Thursday, Feb. 23

1:00 ET
10:00 PT
The First 90 Days: Successful Onboarding Strategies to Boost Productivity, Performance & Engagement
In today's disconnected workplace, onboarding is more important than ever... Here's how to get it right!
Join us for a 60-minute webinar that will help you:
Stop the "wing it" strategy

A structured onboarding program is essential in today's world

Gain a 69% boost in retention

With the correct moves, employees are 69% more likely to stick around after three years

Improve engagement, strengthen performance

Discover how to implement the six critical steps of a proven onboarding program.
Replace "sink or swim" onboarding with a practical 90-day program that locks in retention
How do you handle employees' first few hours … first few days … and first few weeks on the job? Do you simply throw new hires to the wolves with a "sink or swim" message? And how do you onboard employees safely (and often virtually) during the pandemic?
Effective onboarding is critical to ensure that the talent we hire can become productive quickly, perform better, and stay engaged at a high level. The fact is, employees who participate in a structured onboarding program are 69% more likely to remain with the company after three years than those who do not.
On February 23, unlock the secrets to creating a simple but effective 90-day onboarding program that will help you achieve your most important HR and business goals.
Agenda for The First 90 Days
The six critical steps of onboarding and how to implement them.
What really belongs in your new employee orientation – and what to leave out.
Practical tips for virtual onboarding (if you and/or the new hires are working remotely).
The 10 most common mistakes onboarding programs make in the first 90 days – and how to avoid them.
What matters to new employees and what they want to know from you.
How to build the business case for a structured onboarding program.
How to integrate Millennials into your organization and maximize their retention.
Step-by-step actions to take on the first day, first week and even before Day One!
Answers to your questions about onboarding success with a true expert.
Interactive Q&A time included
Bring your onboarding questions for Amy and she'll answer them during the dedicated Q&A time.
Amy Hirsh Robinson, MBA, is a leading expert on the changing workforce and the impact of generational shifts on organizations, consulting to Fortune 500 companies, privately held businesses and not-for-profits to prepare and retool leaders and their workforces to excel and compete in the New Economy. Her strategies and programs focus on attracting top talent, onboarding new employees to ensure the retention and engagement of top talent, managing and motivating a multigenerational workforce, and building competitive talent pipelines through effective succession planning practices. Amy speaks and publishes widely on workforce strategies for the New Economy and has been cited and quoted in publications such as Forbes, The Los Angeles Times and the Huffington Post.

Amy Hirsh Robinson

MBA
Professional Certification Credit Hours Included With This Webinar
Business Management Daily is recognized by SHRM to offer Professional Development Credits (PDC) for SHRM-CP® or SHRM-SCP® recertification activities.
The use of this official seal confirms that this Activity has met HR Certification Institute's® (HRCI®) criteria for recertification credit pre-approval.
Register now and receive these free bonuses!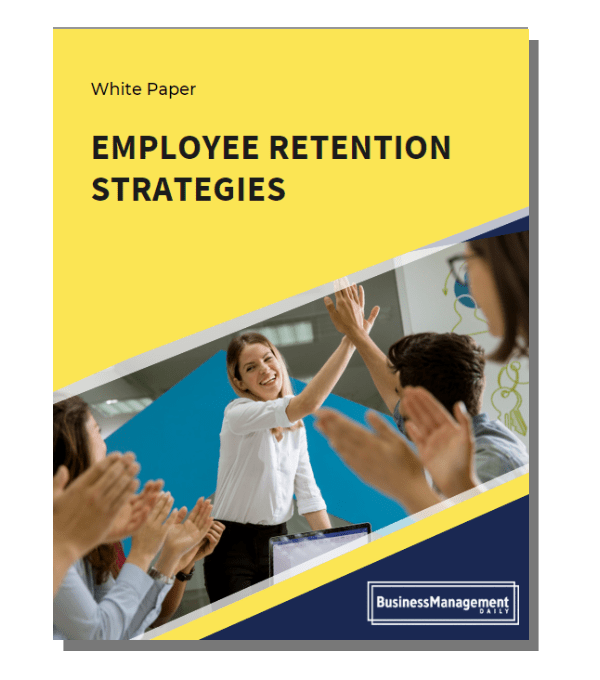 Employee Retention Strategies
Hiring is expensive, timely, and harms productivity. That's why employee retention is so vital. Keeping employees on staff and engaged helps productivity, saves money, and keeps valuable institutionalized knowledge within the organization. However, as companies struggle to maintain employees, what can you do to set your organization apart and keep talent on staff?
Employers need to work harder than ever to retain their current staff. Some solutions include improving employee benefits, allowing telecommuting, and optimizing the onboarding process.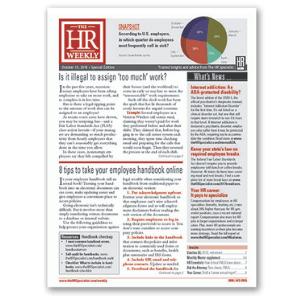 4 free issues of The HR Weekly
You'll also receive one month of exclusive access to The HR Weekly – our comprehensive service with all the HR advice and compliance tools to simplify your job … and to keep your organization out of court. So that you continue to benefit from The HR Weekly, we will continue your subscription after that for the then current rate, unless you tell us "no, thanks" – your choice.
We promise you'll be satisfied.
If The First 90 Days fails to meet your needs in any way, we will refund 100% of your tuition – every penny you paid – but your course materials and registration bonuses will be yours to keep. No hassles, no questions asked.