Tuesday, October 26

1:00 ET
10:00 PT
Advanced Minute Taking Workshop
Join your peers for this informative training session. In 75 minutes, you'll learn how to:
Build confidence in your note-taking

Take efficient and effective meeting minutes

Develop follow-up skills to make you shine
Asked to take the meeting minutes? Don't panic, practice.
Minute taking is a skill that great admins should develop. Just like anything in life, practice makes perfect. The more you take minutes and prepare them, the better you get. Fight against your fear of taking minutes and learn to do it properly and with confidence.
Led by experienced admin trainer Heather Baker, the Advanced Minute Taking Workshop will help you perfect your minute taking skills so you continue to excel.
Agenda for Advanced Minute Taking Workshop
Understand the role of the minute taker
Prepare for and run an effective meeting
Communicate with the meeting chair for better clarity
Record minutes (what you should and should not write down)
Transcribe minutes (how to do it right the first time)
Follow up after the meeting
Interactive Q&A time included
Get your minute taking questions answered during our special Q&A session.
Following over 20 years as a secretary and then a PA herself, Heather established Baker Thompson Associates in January 2000. Since then, she travels the world to inspire PAs, EAs and administrative professionals of all levels, from public and private companies, to excel in their roles, for their success and the success of their organizations. She has won local and national awards and has been a judge for many PA awards. During the global pandemic, her specialized training courses are available online and continue to be interactive, fun and relevant. Courses are endorsed by the Institute of Administrative Management and are CPD Certified.

Heather has written four books and is a regular speaker at national and international PA/EA conferences and seminars, including Executive Secretary LIVE and Executive Secretary Global. She is proud to be a Prince's Trust business mentor in the UK and one of the many supporters and mentors for Isipho Admin in South Africa.

Heather Baker

Creator of the BakerWrite Speedwriting system
Register now and receive these free bonuses!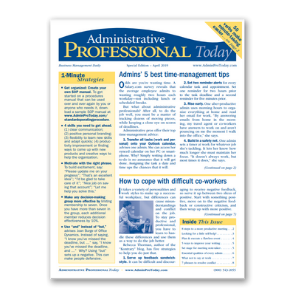 One month of members-only access to AdminProToday.com
This career-boosting website gives you tips on how to succeed in your job – and in your career – offering daily tips, helpful tools, and thousands of informative articles.
So that you continue to benefit from AdminProToday.com, we'll continue your members-only access for just $59 per quarter, unless you tell us "no, thanks" – your choice.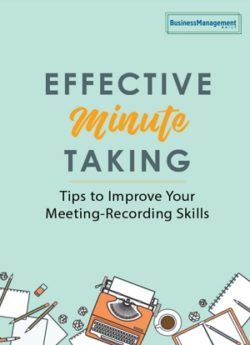 Effective Minute-Taking: Tips to Improve Your Meeting-Recording Skills
This popular executive summary walks you step-by-step through the minute taking process so you can make sure you never miss a beat. From pre-meeting preparation to putting on the finishing touches, you'll gain the skills and confidence you need to be a minute taking star.
We promise you'll be satisfied.
If this Advanced Minute Taking Workshop fails to meet your needs in any way, we will refund 100% of your tuition – every penny you paid – but your course materials and registration bonuses will be yours to keep. No hassles, no questions asked.