Friday, October 8

1:00 ET
10:00 PT
How to Write Up Employees: Documentation Tips & 101 Templates
In this 75-minute online training, you and your supervisors will learn how to:
Improve employee performance.

Use the expert advice (webinar) and sample templates (book) to fix minor infractions before they become major problems.

Protect your company.

By customizing these proven sample write-ups, you'll create discipline notices that withstand any legal scrutiny.

Save time and make your job easier.

These strategies and model templates take the stress and legal liability out of the write-up process.
Don't guess at the right words to use in discipline notices—use proven templates
Correctly documenting discipline—from insubordination to absenteeism to substandard work—is critical for both legal protection and employee communication. But most managers or HR professionals never learned how to write up an employee. Now you can … and you'll get 101 sample ready-to-use model write-ups to make your job easier.
On October 8, discover how to document (and discuss) employee discipline issues in the most clear, accurate and legally smart way. Your trainer will be Paul Falcone, a best-selling author and the former HR leader at Paramount Pictures and Time Warner.
Plus, the first 25 people to sign up will receive a print copy of Paul's legendary book, 101 Sample Write-Ups for Documenting Employee Performance Problems, which includes nearly 500 pages of ready-to-use model write-ups that cover every kind of employee problem you can imagine.
Agenda for How to Write Up Employees
The webinar and book will help you:
Master progressive discipline and effectively structure terminations.
Draft warnings, discipline and termination documents – the right way.
Save time and remove the anxiety from the discipline-documentation process.
Build confidence in your writing skills and improve your standing within the organization.
Shift responsibility for improvement away from the organization and back to the employee (where it rightfully belongs!).
Allow employees a chance to take ownership of their own performance improvement.
Erect a legal barrier against wrongful termination lawsuits.
Avoid the common mistakes employers make with their discipline policies and follow-through.
Employ alternatives to formal disciplinary warnings, including letters of clarification and decision-making leaves.
Discover how to use progressive discipline documents as a means to control performance, behavior and attendance problems … and cut costs.
Interactive Q&A time included
Get answers to your specific questions from one of America's top experts in employee performance. 
Paul Falcone is a best-selling author and has held senior-level HR positions with Paramount Pictures, Time Warner and Nickelodeon. He currently serves as the CHRO of the Motion Picture & Television Fund. Paul is well known in the HR world for his dynamic presentations and for authoring several HarperCollins and SHRM books, many of which have been ranked as Amazon #1 best-sellers in their respective disciplines. Paul is also an adjunct professor at UCLA's School of Business and Management.

Paul Falcone

author and CHRO of the Motion Picture & Television Fund
Professional Certification Credit Hours Included With This Webinar
Business Management Daily is recognized by SHRM to offer Professional Development Credits (PDCs) for the SHRM-CP® or SHRM-SCP®.
The use of this official seal confirms that this Activity has met HR Certification Institute's® (HRCI®) criteria for recertification credit pre-approval.
Register now and receive these free bonuses!
101 Sample Write-Ups for Documenting Employee Performance Problems
The first 25 people to sign up will receive a print copy of Paul Falcone's best-selling, 480-page book, 101 Sample Write-Ups for Documenting Employee Performance Problems. The popular reference tool – with more than 100,000 copies already sold – is packed with ready-to-use model documents and templates for writing up every kind of employee problem – from insubordination to time card falsification to poor communication. It's one of SHRM's top-selling books and it will make your job (and your managers' jobs) much easier.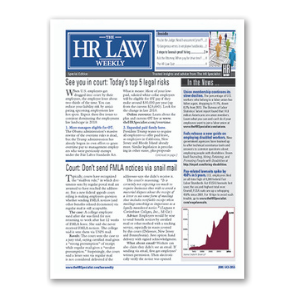 5 free issues of The HR Law Weekly newsletter
We'll also show you how to "lawsuit-proof" your HR practices – from avoiding handbook mistakes to training managers on hiring and firing the right way, and much more.
To make sure you continue to benefit from this advice, we'll keep The HR Law Weekly coming for just $79/quarter until you tell us "no, thanks."
We promise you'll be satisfied.
If How to Write Up Employees fails to meet your needs in any way, we will refund 100% of your tuition – every penny you paid – but your course materials and registration bonuses will be yours to keep. No hassles, no questions asked.