Thursday, Feb. 17

1:00 ET
10:00 PT
Independent Contractor vs. Employee: How to Comply and Avoid the Crackdown
In this 75-minute online training, learn how to:
Classify with confidence.

No bright-line definition of "independent contractor" exists and mistakes can be disastrous.

Understand new federal and state law changes.

The back-and-forth IC guidelines are being rewritten, again.

Avoid the upcoming enforcement.

Biden's DOL announced that employee misclassification is a key spring 2022 enforcement priority.
Independent contractor status has exploded during the pandemic, along with the misclassification risks.
The most basic question about the employment relationship, whether a worker is an "employee" or "independent contractor," has baffled HR and employers for years. You can save big on taxes, benefits, and liability by using contractors, but the risk of misclassifying them is huge and getting worse.
The pandemic, vaccine mandates, and the remote-work trend have caused more employers to explore independent-contractor status. Yet misclassification can be expensive ($5.3 million and $6 million settlements just in the past two months). Biden's Labor Department just announced it is targeting worker misclassification as a focus of enforcement for spring 2022.
At the same time, the definition of an independent contractor keeps changing. The Biden administration recently shelved Trump-era pro-employer guidance on this issue. Now the DOL is planning a new definition and, at the same time, several states and cities are creating their own tests for IC status.
Where does that leave employers? If you classify any workers as independent contractors (or plan to do so), now is the time to make sure you get that classification correct and understand the upcoming changes. Discover your classification mistakes BEFORE the feds do!
Agenda for Independent Contractor vs. Employee
How to create independent contractor relationships that meet current IRS, DOL, NLRB, and state agency requirements.
How to make the case-by-case determination of an employee's status that will stand up in court.
What is the DOL's current definition of a contractor, and what changes are coming?
The pros & cons of contractor status (same work, lower costs, fewer hassles) and the risks (reclassifications leading to huge tax, wage, and benefit payments).
COVID and vaccine developments affecting independent contractors, and how to respond.
Why the feds are increasing enforcement, what they're looking for, and how you can stay in compliance.
What to expect in 2022 from the federal government and the states on this issue.
The key factors the DOL and IRS consider (and you should, too) in making classification decisions.
Important court cases that help draw a brighter line between contractors and employees.
The steps you should take to safely manage independent contractors.
Interactive Q&A time included
Get questions to your specific contractor questions during our special Q&A session.
Greg Guidry is a shareholder with Ogletree Deakins, based in Lafayette, Louisiana. He has successfully represented management in all phases of labor and employment law throughout the United States for over 35 years. A significant percentage of his practice involves defending and advising clients on misclassification issues. He is the president of the national Management Labor & Employment Roundtable, is a fellow in the College of Labor and Employment Lawyers, and has been listed for many years in Best Lawyers in America directory in the labor and employment law field.

Greg Guidry

Ogletree Deakins
Jennifer Trulock is a partner at Baker Botts in Dallas, where she is chair of the firm's Labor and Employment Practice Group. Jennifer graduated from Georgetown University Law Center and she represents management in all aspects of labor and employment law. Jennifer also counsels and trains employers on managing workplace issues and preventing employment lawsuits.

Jennifer Trulock

Baker Botts
Professional Certification Credit Hours Included With This Webinar
Business Management Daily is recognized by SHRM to offer Professional Development Credits (PDC) for SHRM-CP® or SHRM-SCP® recertification activities.
HRCI has pre-approved this activity for recertification credit toward the aPHR®, PHR®, PHRca®, SPHR®, aPHRi™, PHRi™, GPHR® and SPHRi™ certifications. The content of the activity submitted has met the criteria of the Approved Provider Program.
Register now and receive these free bonuses!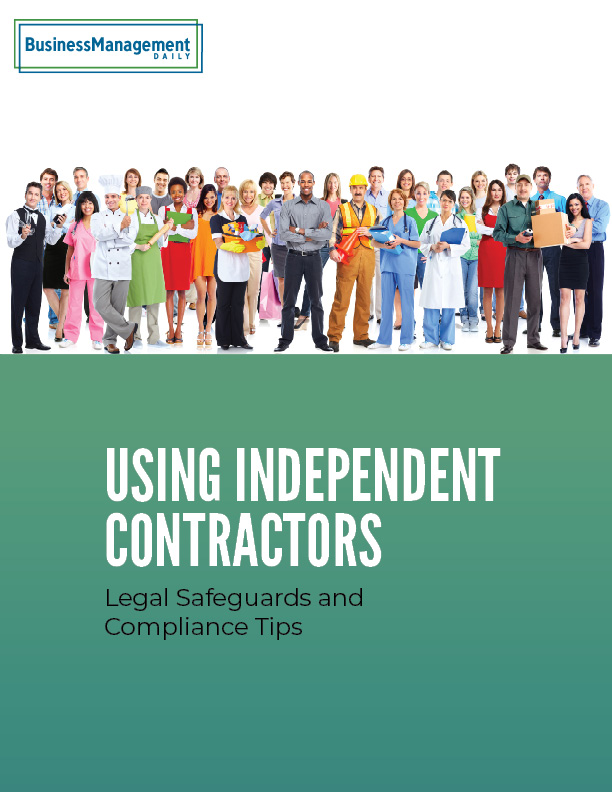 Using Independent Contractors
Everyone who signs up will receive Using Independent Contractors at no cost or obligation. This report offers step-by-step instructions on how to comply with IRS requirements without compromising your ability to make cost-effective hiring decisions.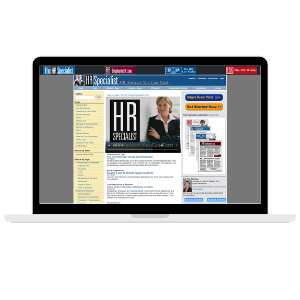 HR Specialist Premium Plus Online
One month of members-only access to Premium Plus Online at TheHRSpecialist.com.
We'll continue your access automatically for just $99 per quarter, unless you tell us "no, thanks" – your choice.
We promise you'll be satisfied.
If Independent Contractor vs. Employee fails to meet your needs in any way, we will refund 100% of your tuition – every penny you paid – but your course materials and registration bonuses will be yours to keep. No hassles, no questions asked.