Wednesday, June 30

1:00 ET
10:00 PT
FMLA Compliance Clarity: Managing Leave in a Changing Workforce
In this 75-minute workshop, you'll take a deep dive into employee leave to understand:
The pandemic's lasting impact.

What regulations and relief laws you must know, and how to adjust your paid and unpaid leave policies if you are planning to continue offering telework.

The correct (and compliant) ways to administer leave.

Take a deep dive into documentation, tracking and certifications. Learn the best way to coordinate state and city paid leave mandates with unpaid FMLA.

What's ahead for leave and how to prepare now.

Learn the latest news from Congress, the White House and state legislatures and how to respond and plan now for the likelihood of leave laws changing.
Employee leave changes are not slowing down. Stay on track with expert guidance.
Employee leave laws have seen a swift and complicated change this year and last in response to the coronavirus pandemic.
As the states take action and Biden's proposal for a national paid-leave program goes up for debate, a lot of "what ifs" are rising, all while employers face a variety of on-going challenges … from determining eligibility to having to fire staff who are on some form of leave, due to economic challenges and reformulated business plans.
Take 75 minutes on June 30 to sit down with employment lawyer Anniken Davenport and get focused guidance on what to do in the weeks and months ahead to support your staff and protect your company through the ever-changing landscape of employee leave.
Agenda for FMLA Compliance Clarity
Managing intermittent leave and FMLA schedules. This has never been more important! Identify, evaluate and resolve issues related to administering intermittent FMLA leaves – especially when you suspect employee cheating.
The legal way to terminate on FMLA. Get the proper steps on how to do it without risking a no-win lawsuit … even if the employee is out on FMLA leave, asked for leave or just returned to work.
Vaccination and recovery. How your employees can and cannot use FMLA for this time.
Special rules for military leave. As military service members get called for short-term assignments like running vaccination clinics and managing unrest, the special rules are becoming a serious employer litigation trap.
Meeting the needs of the mental and physical health catastrophe upon us. Millions are reporting newly diagnosed mental health disorders triggered by isolation, job instability and family crises. Millions more have long-term serious health conditions because of COVID-19 infections that mean missed work, declining performance and disability. Get a strategy on how to support employees with leave options and ADA accommodations.
Coverage for rehires. Understand how to determine who's immediately eligible for FMLA leave and who's not.
What the federal government's recent pandemic relief bill means for you. The American Rescue Plan Act is just the start. Figure out how both the latest and coming changes impact your FMLA and other leave policies.
Interactive Q&A time included
Bring your leave law questions for Anniken to the Q&A session. She'll address your issues and provide you resources.
Anniken Davenport is a noted employment law attorney and the editor of the HR Specialist: Employment Law newsletter series. She has authored several books, including Bullet-Proof Your Employee Handbook and Overtime & Other Tricky Pay Issues, published by HR Specialist. She is the co-author of the upcoming Labor & Employment Law for the 21st Century by Prentice Hall. Anniken has served as a professor at Penn State University, where she taught business law and HR management, and she directed the Legal Studies Program at Wilson College. Her legal career includes representing government units in discrimination and other employment law cases and representing school districts in labor negotiations.

Anniken Davenport

Attorney and author
Professional Certification Credit Hours Included With This Webinar
This program is valid for 1.25 PDCs for the SHRM-CP® or SHRM-SCP®.
The use of this official seal confirms that this Activity has met HR Certification Institute's® (HRCI®) criteria for recertification credit pre-approval.
Register now and receive these free bonuses!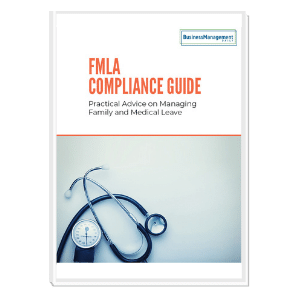 FMLA Compliance Guide
A free copy of our top-selling report that updates you on 10 other recent changes in the law, and provides step-by-step guidelines on hundreds of real-world situations.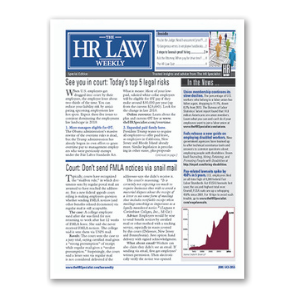 5 free issues of The HR Law Weekly newsletter
We'll also show you how to "lawsuit-proof" your HR practices – from avoiding handbook mistakes to training managers on hiring and firing the right way, and much more.
To make sure you continue to benefit from this advice, we'll keep The HR Law Weekly coming for just $79/quarter until you tell us "no, thanks."
We promise you'll be satisfied.
If FMLA Compliance Clarity fails to meet your needs in any way, we will refund 100% of your tuition – every penny you paid – but your course materials and registration bonuses will be yours to keep. No hassles, no questions asked.