Friday, October 29th

1:00 ET
10:00 PT
Tough Talks:
Scripts & Strategies for Difficult Employee Discussions
By joining this 75-minute online, interactive training, you will:
Learn the EXACT words to use in difficult talks with employees.

From poor performance to poor behavior, HR guru Paul Falcone shows you proven strategies and model dialogue to use in those "tough talks."

Treat workers with dignity—and stay in compliance.

Discover the steps to "positive confrontation" that will protect your career—and keep your organization in legal compliance.

Get a 384-page guidebook of sample wording to use.

Paul's legendary reference tool, 101 Tough Conversations to Have With Employees, is packed with detailed sample wording to navigate any employee discussion.
The ultimate guide on what to say after "Got a minute?"
Most supervisors and HR professionals never learned how to handle uncomfortable conversations with employees about poor performance, offensive behavior or even personal hygiene. So they typically fumble through the words or, worse, avoid the topic completely.
On October 29th, learn EXACTLY what to say in all kinds of "tough talks" during this dynamic training webinar. Best-selling author Paul Falcone will give the strategies to take the stress and legal liability out of any difficult conversation.
This workshop is a practical, solutions-based guide for supervisors and HR professionals who need some guidance on what to say after "Got a minute?" You'll learn real-world tactics for handling even the most awkward discussions. Also, the first 25 who sign up will receive a print copy of Paul's legendary book on this topic, 101 Tough Conversations to Have With Employees.
The 9 rules to successfully handle any tough talk. (You'll want to print and reread before any important employee conversation.)
The 4 tools to help employees take responsibility for their actions and problems.
How to use "positive confrontation" and the power of guilt to change behavior.
A legally safe script to use when employees want to talk "off the record" about a sensitive issue.
3 practical steps to stop attitude and entitlement problems in their tracks.
Paul will then provide time-tested sample scripts to use in addressing some of the most common—and most serious—employee problems, including:
Substandard performance and behavioral problems
Excessive and "pattern" absenteeism
Disputes among co-workers
Personal hygiene
Terminations for cause and layoffs
Foul language and offensive banter
Sexually inappropriate actions
Time card "mistakes"
And, remember, you'll receive more detailed scripts on these and more issues in Paul's 101 Tough Conversations book, if you're one of the first 25 to sign up.
Interactive Q&A time included
Use the interactive Q&A time to ask Paul your questions on how to conduct tough talks with confidence.
Paul Falcone is a best-selling author and has held senior-level HR positions with Paramount Pictures, Time Warner and Nickelodeon. He currently serves as the CHRO of the Motion Picture & Television Fund. Paul is well known in the HR world for his dynamic presentations and for authoring several HarperCollins and SHRM books, many of which have been ranked as Amazon #1 best-sellers in their respective disciplines. Paul is also an adjunct professor at UCLA's School of Business and Management.

Paul Falcone

author and CHRO of the Motion Picture & Television Fund
Professional Certification Credit Hours Included With This Webinar
Business Management Daily is recognized by SHRM to offer Professional Development Credits (PDCs) for the SHRM-CP® or SHRM-SCP®.
The use of this official seal confirms that this Activity has met HR Certification Institute's® (HRCI®) criteria for recertification credit pre-approval.
Register now and receive these free bonuses!
101 Tough Conversations to Have With Employees
The first 25 people to sign up will receive a print copy of Paul Falcone's best-selling, 384-page book, 101 Tough Conversations to Have With Employees. This legendary HR reference tool, which has sold more than 50,000 copies, is packed with sample dialogue to help HR professionals and managers successful navigate employee conversations on 101 different topics—from co-worker conflicts to lack of production to offensive behavior. This practical guide helps you treat employees with dignity and respect, focusing not just on WHAT to say but also HOW to say it. It's a must for any HR department.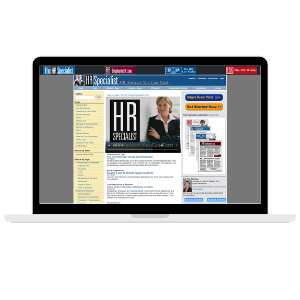 HR Specialist Premium Plus Online
One month of members-only access to Premium Plus Online at TheHRSpecialist.com.
We'll continue your access automatically for just $99 per quarter, unless you tell us "no, thanks" – your choice.
We promise you'll be satisfied.
If Tough Talks fails to meet your needs in any way, we will refund 100% of your tuition – every penny you paid – but your course materials and registration bonuses will be yours to keep. No hassles, no questions asked.