Friday, Oct. 28

1:00 ET
10:00 PT
Tough Talks: A Manager's Guide to Performance, Conduct, and Discipline Challenges
In this 75-minute interactive online training, you will learn:
The rules of engagement

How to shift responsibility for improvement away from your company and to the employee, where it rightfully belongs.

How to deploy your available tools

Take advantage of your alternatives to avoid rushed judgment or managing by fear of a lawsuit.

Safe legal language

The wrong words can spark legal trouble. Learn which ones never to use and what to say instead.
The wrong words can spark legal trouble. Keep your language in legal compliance.
Attitude problems, poor performance, hygiene issues, absenteeism, co-worker conflicts, timecard offenses, foul language …

Most supervisors and HR professionals never learned how to handle these uncomfortable conversations with employees. So they typically fumble through the words or, worse, avoid the confrontation until a minor issue becomes a major problem.
Learn exactly what to say in any kind of difficult or awkward conversation with your employees. In this dynamic training webinar, former CHRO Paul Falcone will give strategies and precise wording to take the stress and legal liability out of these tough talks.
This interactive workshop is a practical, solutions-based guide for any business leader who needs some guidance on what to say after "Got a minute?" Learn real-world tactics and sample wording for even the most awkward employee discussions.
In this interactive workshop, discover how to deal with:
Speaking off the record
New supervisor syndrome
Stopping attitude problems
Bad breath
Body odor
Excessive absenteeism
Foul language
Leering
Layoffs
Time card fraud
Mediating disputes
Incentivizing employees to leave
And more!
Interactive Q&A time included
Use the interactive Q&A time to ask Paul your questions on how to conduct tough talks with confidence and clarity.
Paul Falcone is the principal of Paul Falcone Workplace Leadership Consulting, LLC, specializing in leadership and management training, executive coaching, keynote speaking, and facilitating corporate offsite retreats. Paul is the former CHRO of Nickelodeon, a long-term columnist for SHRM, and a bestselling author of 15 books with HarperCollins Leadership and the American Management Association, including the new five-book Paul Falcone Workplace Leadership Series, 101 Tough Conversations to Have with Employees, 101 Sample Write-Ups for Documenting Employee Performance Problems, 96 Great Interview Questions to Ask Before You Hire, and 2600 Phrases for Effective Performance Reviews.

Paul Falcone

author, former CHRO of Nickelodeon, and a long-term columnist for SHRM
Professional Certification Credit Hours Included With This Webinar
Business Management Daily is recognized by SHRM to offer Professional Development Credits (PDC) for SHRM-CP® or SHRM-SCP® recertification activities.
HRCI has pre-approved this activity for recertification credit toward the aPHR®, PHR®, PHRca®, SPHR®, aPHRi™, PHRi™, GPHR® and SPHRi™ certifications. The content of the activity submitted has met the criteria of the Approved Provider Program.
Register now and receive these free bonuses!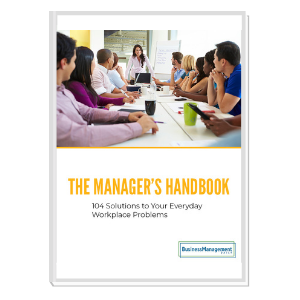 The Manager's Handbook: 104 Solutions to Your Everyday Workplace Problems
Everyone who signs up will receive a downloadable copy of The Manager's Handbook: 104 Solutions to Your Everyday Workplace Problems. This comprehensive 198-page reference (a $65.00 value) is filled with practical advice to help managers do their jobs better. No lofty theories or buzzwords. Just concrete tips to help you improve performance, stay out of legal trouble and become an even more valuable member of the management team.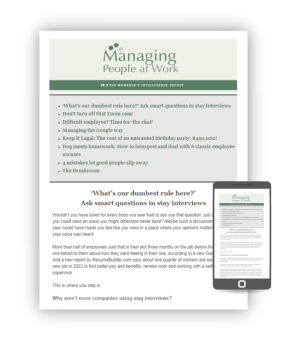 30-Day Free Trial to Managing People at Work
You'll also receive one month of exclusive access to Managing People at Work — our comprehensive online resource designed to make you a stronger, better-prepared manager. So that you continue to benefit from Managing People at Work, we will continue your subscription after that for the then current rate, unless you tell us "no, thanks" — your choice.
We promise you'll be satisfied.
If Tough Talks fails to meet your needs in any way, we will refund 100% of your tuition – every penny you paid – but your course materials and registration bonuses will be yours to keep. No hassles, no questions asked.