Thursday, September 1

1:00 ET
10:00 PT
Marijuana Policy & Best Practices: Handling Employee Medical & Recreational Use
In this 75-minute interactive online training, you will learn how to:
Minimize marijuana risks.

Keep pace with evolving marijuana legislation, case law and regulations—and how they affect your organization.

Manage employee usage.

Create legal, best-practice policies to manage employees' marijuana use, while keeping the focus on productivity and safety.

Maximize legal & regulatory compliance.

Learn how to comply with federal, state and city marijuana laws, and adhere to industry and government regulations.
Finally get clarity on how to manage the complex maze of questions related to marijuana and the workplace.
Can you fire employees for off-duty marijuana usage? Can you still test employees for it? Are you obligated to accommodate medical use? How do new laws and the ADA affect what you can and cannot prohibit? 
As the march toward nationwide legalization continues, your organization can't afford to leave cannabis compliance to chance.
While marijuana remains illegal on the federal level, states swiftly are legalizing medical and recreational use. This patchwork of state laws leads to complicated questions on policies, testing, terminations, accommodations and more.
Regardless of where your state stands, now is the time for employers to address the risks and challenges posed by after-hours (and even on-the-job) marijuana use.
This webinar will help organizations understand, prepare for and manage marijuana use in compliance with the law. Learn how to implement best-practices marijuana policies to communicate rules, manage expectations, support productivity, ensure safety and comply with all federal and state laws.
Agenda for Marijuana Policy & Best Practices

Manage employee marijuana use at home, the workplace and elsewhere—even for remote employees.
Create and enforce best practices-based marijuana policy and procedures.
Comply with federal and state laws governing medical and recreational use.
Accommodate medical use correctly to prevent discrimination lawsuits.
Rethink testing, or risk losing valuable employees and job candidates.
Weigh zero-tolerance policies vs. turning a blind eye.
Adhere to ADA and FMLA responsibilities regarding usage, treatment, disability, etc.
Handle workers' comp, OSHA, DOT and unemployment compensation challenges triggered by marijuana.
Recognize and respond correctly to suspected impairment on the job.
Keep pace with evolving marijuana legislation, case law and regulations.
Interactive Q&A time included
Ask policy expert Nancy Flynn specific questions about marijuana use by YOUR employees during the dedicated Q&A session.
Nancy Flynn is the founder of the Marijuana Policy Institute and an internationally recognized authority on workplace policies. She is an in-demand trainer and the author of 13 books published in six languages, include The e-Policy Handbook, of which Training Magazine said, "You might not find a more useful business book this year." Recognized for her policy know-how, Nancy serves as an expert witness in policy-related litigation. She has also been a columnist for the Wall Street Journal and served as a media source on policy issues for Fortune, Time, The New York Times, Washington Post, Forbes, USA Today, NPR, ABC and CBS.

Nancy Flynn

The ePolicy Institute and Business Writing Institute
Professional Certification Credit Hours Included With This Webinar
Business Management Daily is recognized by SHRM to offer Professional Development Credits (PDC) for SHRM-CP® or SHRM-SCP® recertification activities.
HRCI has pre-approved this activity for recertification credit toward the aPHR®, PHR®, PHRca®, SPHR®, aPHRi™, PHRi™, GPHR® and SPHRi™ certifications. The content of the activity submitted has met the criteria of the Approved Provider Program.
Register now and receive these free bonuses!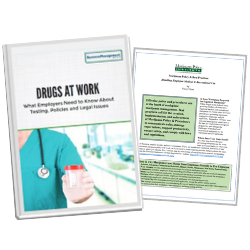 Drugs at Work and Marijuana Policies and Best Practices
Everyone who orders will receive our special report, Drugs at Work: What Employers Need to Know About Testing, Policies and Legal Issues, which includes a sample policy on employee drug use and testing that you can adapt for your workplace. Plus, you'll receive Nancy Flynn's new white paper, Marijuana Policies and Best Practices, which lays out the 30 best practices for every employer on this issue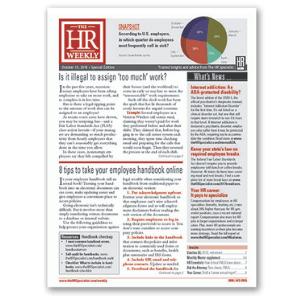 4 free issues of The HR Weekly
This newsletter is your best source for all the HR advice and compliance tools to simplify your job … and to keep your organization out of court.
So that you'll continue to benefit from this service, we'll continue your subscription automatically for just $79 per quarter, unless you tell us "no, thanks" – your choice.
We promise you'll be satisfied.
If Marijuana Policy & Best Practices fails to meet your needs in any way, we will refund 100% of your tuition – every penny you paid – but your course materials and registration bonuses will be yours to keep. No hassles, no questions asked.